Researchers in the Cornell Ann. S Bowers College of Computing and Information Science are no strangers to groundbreaking work, and on Oct. 14, members of the college participated in a different type of groundbreaking: a celebration of the new CIS building complex.
The ceremony honored the transformative gift from Ann S. Bowers '59, which established the college that now bears her name, and kicked off a weekend of events for Cornell Bowers CIS during the Cornell Trustee-Council Annual Meeting. These events mark a new era for the college, as it grows to meet the rising demand for education and innovation in the computing and information science fields.
Faculty, staff, alumni, and Cornell trustees gathered for the celebration on the lawn on the south side of Gates Hall overlooking Hoy Field, where construction on the state-of-the-art building will begin in early 2023.
"We're here to celebrate our future," said Kavita Bala, dean of Cornell Bowers CIS. "We're growing our faculty, who are shaping the future of technology. We're expanding opportunities for our students for better experiential learning. We have exciting new research initiatives that will position us for continued leadership in tech. And, we're developing a culture where diversity and inclusion are built into the very fabric of our academic ecosystem."
The building is made possible by Bowers, a silicon valley pioneer, whose nine-figure gift in 2020 unified the Departments of Computer Science, Information Science, and Statistics and Data Science, creating the new college.
"In the years ahead, Ann's gift will help cement Cornell's place as one of the very best centers of computing education and research in the world, and pave the way for new achievements in the fields of computing, information science, statistics and data science," said President Martha E. Pollack, speaking at the celebration.
Also participating were Steve Conine '95 and his wife Alexi Conine '96, and Niraj Shah '95, who, with Shah's wife, Jill, together made a combined $10 million-dollar donation, which built momentum for the new complex. Conine and Shah are co-founders of the homegoods retailer Wayfair.
Instead of putting shovels in the ground, Pollack, Provost Michael I. Kotlikoff, Bala, Steve and Alexi Conine, Shah, and Kraig Kayser, chair of the Cornell Board of Trustees, gathered to press a button, starting an animation of the new building on an 8-foot-high screen. Over a soundtrack by Cornell's Taiko Drumming Group, Yamatai, attendees could envision the building in its future location. The new space is set to open in spring 2025.
From TV Stands to Wayfair
The celebration continued on Oct. 15, with a conversation with Bala, Conine and Shah in the Alice Statler Auditorium. The Wayfair co-founders shared memories of their time at Cornell, their early forays into business and the successes and challenges of running an online home-furnishing retailer with 18,000 employees and revenues just shy of $14 billion last year.
"Anything you want to do that's enduring, whether that's in a relationship or business, every day is not going to be great," Shah said in response to a question about navigating difficulties in business. "You have to zoom out a bit."
Launched in 2002 amid the debris of the dot-com crash, the company that would become Wayfair was the result of good, old-fashioned research and the duo's keen business sense. Conine and Shah fetched government data and saw that, despite the crash, e-commerce growth continued upward. Further, online entrepreneurs were finding success selling niche goods, and one such item was showing up in the top-100 product searches online: television stands.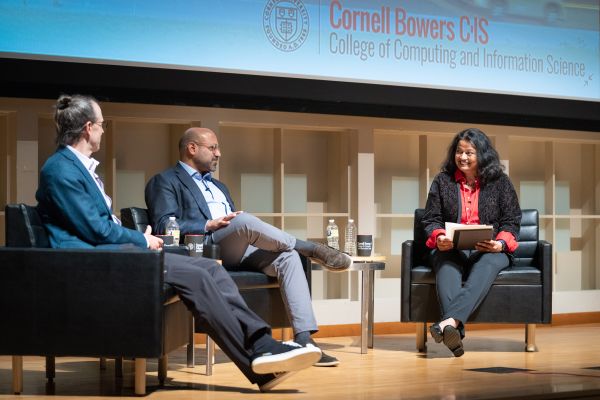 Conine and Shah launched a niche online retail store called racksandstands.com, which became CSN Stores, and in 2012, Wayfair. The company went public in 2014.
Responding to a student question about how they each decided to go all-in as entrepreneurs during their time at Cornell, Conine again touched on the importance of finding momentum and recognizing interests that keep you engaged. During their early business ventures as Cornell students, it wasn't rare for the pair to work long hours, they said.
"If you have something that keeps you working 100-hour weeks," Conine said, "you're onto something."
Cutting-edge Research
An interdisciplinary showcase on Saturday morning in Gates Hall highlighted research from 18 student teams across Cornell Bowers CIS. Both undergraduates and graduate students shared their visionary research – from published work on autonomous vehicles and team collaboration via virtual reality and robotics, to developments in collaborative, federated learning and mobile video games.
Yurong You '23 and Cheng Phoo '23, both doctoral students in the field of computer science, presented findings on their separate but equally groundbreaking research on autonomous vehicles. Both research projects could reduce the development cost and make autonomous vehicles more efficient when navigating familiar routes.
Rosamond Thalken, a doctoral student in the field of information science, presented "Rhetorical Performance in Supreme Court Opinions," which uses text analysis to examine occurrences of collective and individual tones – or monologic voice – among U.S. Supreme Court Justices in more than 15,000 opinions from 1946 to present. Words that distinguish the monologic voice within this context would include "our," "me," "my," "decision," "opinion," and many others. Among her findings, Thalken shows that changes in the monologic voice – from collective to individual tones or vice versa – often occur around the appointment of a new chief justice. She also finds that the Roberts Court – a conservative court led by Chief Justice John Roberts – uses less of the individualistic and collective tones, until an increase in the individualistic tone in the past two years.
Kate Donahue, a doctoral student in computer science, is doing research on models of fairness in federated learning, which is a form of distributed learning where multiple users or "agents" share their data to train a single, global artificial intelligence model. She has published two previous papers on federated learning and has another forthcoming work specifically on fairness.
Jason Cho, a doctoral student in the field of statistics and data science, hopes to use statistics to eventually design a pricing model for non-fungible tokens (NFTs), which are digital assets like images, video and music that are bought and sold online. He performed data analysis on eight highly valued NFT collections and discovered three challenges he intends to investigate further: price manipulation through a process called "swaps and wash trading," price differentiation by token traits and severe volatility and illiquidity.
Mose Sakashita, a doctoral student in the field of information science, presented Robotic VRoxy, a project leveraging virtual reality and robotics to allow for smoother remote collaboration between teammates. Think Zoom, but with a VR headset that translates your movements to a physical robot that turns and shifts alongside your human collaborators. The idea, Mose said, is to capture the subtle wordless but vital cues of human communication that are easily lost in remote collaboration.
These and other student research projects highlight the bright future of Cornell Bowers CIS.
"One of our biggest opportunities to shape the future is through our students," Bala said during the groundbreaking ceremony. "They are future leaders and innovators who will leave their own indelible mark on the world."
Patricia Waldron and Lou DiPietro are writers for the Cornell Ann S. Bowers College of Computing and Information Science.